Saturday 1 June 2019:
21:34. As I do this time every year, here is my linear regression estimating the storage capacity per inflation-adjust dollar trends newly updated for June 2019: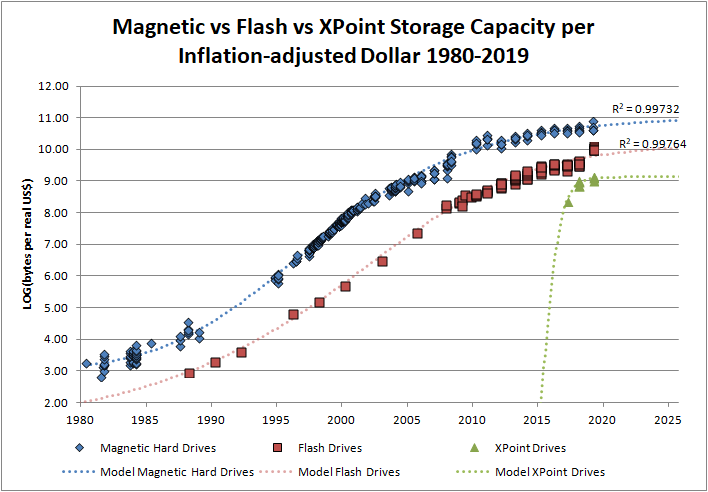 The big standout this year is the enormous drop in the price of flash storage over last year. Right now, you can buy more than twice the size of flash drive for the exact same money as this time last year. This is why the bytes-per-dollar for flash drives this year has jumped up above its trend line, though if you look closely, flash storage has actually resumed the trend line it was on up until 2015, after which it stagnated for a few years. The cause for such a value improvement is the current massive surplus of flash storage on the wholesale market, manufacturers are drowning in red ink trying to shift stock before the world economy enters recession again, so the current prize bonanza won't last. If you were on the fence about purchasing a NVMe Samsung 970 Pro SSD, you can pick up a 512Gb model for about €160 right now. Crazy cheap for what is a stonkingly fast drive. I should know, I bought one for my new Threadripper rig, even though I know that you can get a 1Tb 970 EVO Plus for just a little more money, and it's just as fast up until its SLC cache runs out (after about 60Gb of writes without breaks).
Spinning rust storage continues its steady improvement. They are clearly trying to clear out the stock of 4Tb drives, those are selling super cheap right now, you can see its marker standing out above the others.
The other news is that, as I predicted this time last year, Intel have no intention of making XPoint non-volatile memory price competitive with flash storage. As I suggested this time last year, I think they're going to track the price of flash storage, but at 3x the price per byte as their stuff is superior, and if you need what XPoint provides, you're going to pay up. That said, the large improvement in flash storage pricing means that XPoint is now 8x the cost, and while it might be 3x better for QD1 random 4Kb read latency, it's definitely not 8x better, so Intel may have to cut their margins.
In case you're looking for the raw numbers for all the historical prices, you can find them at https://www.nedprod.com/studystuff/SSDsVsHardDrives.xlsx.
---
---