Sunday 26 February 2023:
09:34. I've made good forward progress in the past month on
my future house build
despite losing two weeks to the WG21 meeting in Issaquah near Seattle.
I'll start with the bad news: my mortgage broker who was handling the Permanent TSB and Bank of Ireland mortgage applications came back to me with unhelpful lending conditions. I had submitted the fixed price quote from EcoTech Homes which brings the house to Builder's Finish for €606k, so to reach bare minimum viable for the purposes of ticking the mortgage lender's definition of 'completed' at which point the mortgage turns into a normal not self build mortgage:
Add structural engineering design: €10k.
Add M&E engineering design: €10k.
Add site preparation groundworks + ground-air heat exchanger: €40k.
Add internal painting: €15k.
Add kitchen, wardrobes, other joinery: €12k.
Add bare minimum sanitaryware to reach mortgage completion tick box: €5k.
Total: €700k (rounded up)
Bank of Ireland and the Permanent TSB lend the following maximums for self build mortgages by first time homeowners, whichever is the lowest:
No more than four times your average income in the past three years (this is the Loan to Income limit set by the Irish government).

No more than the cost of construction (that would be the €700k above).

No more than 80% of the final valuation of the completed property.
It's that last one which is my problem specifically, because there is absolutely no way that this property would be worth more than maybe €400k after completion, based on the historical property sale prices as recorded by the national property price register for that region. Therefore, the maximum that PTSB and BoI would lend me is €320k, leaving me €380k short.
At this point the two lenders varied slightly: PTSB wanted me to have the full €380k in cash in my bank account before they would lend a penny. BoI were marginally better: they merely want €350k in cash in my bank account before they would lend a penny. This cash sum must be unborrowed money AND I cannot take out any personal loans after they approve the mortgage, else the mortgage agreement becomes voided.
This creates a particularly large hurdle, because one needs working capital in situations where large outflows occur (stage payments to the builder) which are not replaced until large inflows to replace them happen (stage drawdowns from the mortgage provider, as self build mortgage pay in arrears so you need to front the cash for each stage).
I earn pretty well, but €350k in unborrowed cash is well beyond my means. It would take many more years of saving for me to reach that level of cash. Also, I could not spend any further cash on that site getting it progressed, because every euro I spend on it reduces the cash present hurdle those banks demand and thus puts me further away from acquiring a mortgage.
What is especially frustrating here is that those banks don't disambiguate between a fixed price contract from a builder and going direct labour. The direct labour cost based on the other quotes I received I reckon is about €450k. The banks want to add +15% to that for cost overruns, so that's €520k or thereabouts. Despite the obvious large gap in terms of risk and time over a fixed price quote from a professional builder, they treat those two quotes identically i.e. the cash hurdle that they demand before lending a penny drops by €86k, which is two years less time I would have to wait. But then I would have to manage the build myself, chase all the trades, and assume all the risk when a subcontractor does something which messes up the air tightness needed (or indeed anything else e.g. the foundations don't match the superstructure, and they need to be with three millimeters of spec incidentally!).
This is bad news no doubt. There is one other self build mortgage lender in Ireland, which is the Allied Irish Bank. They're still processing my mortgage application nearly two months after submission. They have the same lending conditions except that they will lend up to 90% of final valuation, so that's an extra €40k. I am hoping given how long that they are taking and the extra paperwork they keep demanding that they will additionally offer a personal loan, which in Ireland is capped to €75k. That would supply €435k of lending, which would mean I need unborrowed cash in the bank of €265k before they would lend a penny. That is also well beyond my means, but it does lop a few years off how many more years I will have to wait.
In any case, the chances of commencing a build in 2023 now looks very unlikely

. Key upcoming dates:
April 2024: Purchase contract requires build to be complete by this date, or the contract is breached. To be honest, even if the build started next month, given the delays in the building industry right now, completion by this date is unattainable.

December 2024: Commencement must begin before this date to get a refund of the 7.5% stamp duty paid for the transfer of land, which was €6,750. Also, the government subsidy scheme 'Help to Buy' worth €30k currently expires after this date.
The good news
Mains electricity installation is finally unblocked
Eight months after ordering the solar inverter and the lithium battery storage, those finally arrived while I was at Issaquah. I got the inverter mounted onto the wall ready for being wired in: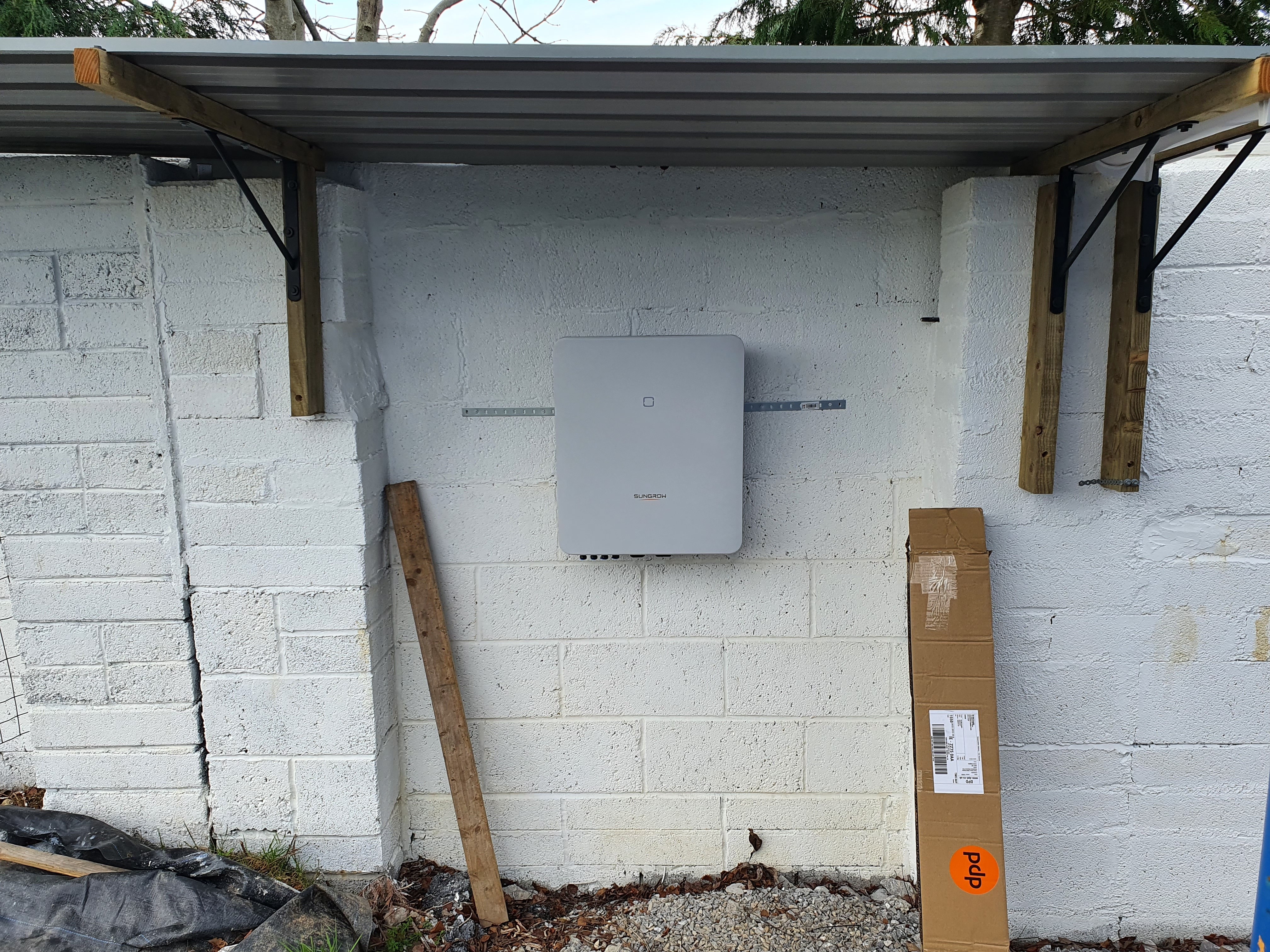 This is a 10kW Sungrow SH10RT three phase hybrid inverter. It isn't the Fronius inverter I originally wanted, but those have lead times of three years right now, so if I wanted mains installed on the site any time soon then I had to choose a Chinese-made not European-made inverter. Sungrow historically are the most reliable of the Chinese inverters with a typical failure rate of 0.31% per annum for their last generation of inverters, this is actually slightly better than Fronius' typical failure rate. They're also a lot cheaper, and have some unique features e.g. a built-in mains isolator with < 30 ms switchover time i.e. they're off grid capable by default, whereas the Fronius needs an expensive additional automated mains isolator added to it for similar functionality.
You do give up a bunch of stuff for the reduced cost however in terms of specification and flexibility. In particular, the Fronius can extract power much much better out of dull days where the solar panels aren't getting much radiation. And the solar panel string configuration options are nothing like as flexible with the Sungrow, in fact, they are downright rigid, but as this will be a brand new install, we can design around that.
They also get quite hot during use, up to 70 C on the outside, unlike the Fronius which has active cooling. I have accounted for this with plenty of space around the Sungrow, including a metal roof which also doubles in keeping the sunshine off the inverter, as if it get too hot it cuts out.
One unique feature particularly useful to me right now is that the Sungrow is specifically designed to be detachable i.e. you can bring it out in the morning and plug it in, and remove it end of day into safe storage. As I don't live there, this I will make use of on my site so it doesn't get nicked.
Anyway, the reason I needed this before I could install mains electricity is because the ESB won't give you a three phase mains connection unless you have onsite a three phase demand of sufficient power. They instead require you to install a small single phase at a hefty connection fee, then charge you a second hefty connection fee to upgrade the connection to three phase. As much as it cost me many months of waiting, buying these now saves me that second hefty connection fee. There is a further potential cost saving: most builders have to hire in generators which they of course bill straight onto you. If I have 20 kW of three phase mains power available onsite, that should eliminate the need to rent generators, and that will shave a further few grand off total build costs.
Other
I got the 2.5 mm2 three phase power cable and Cat 5 ethernet for the security camera trunked into the conduit for the far services box: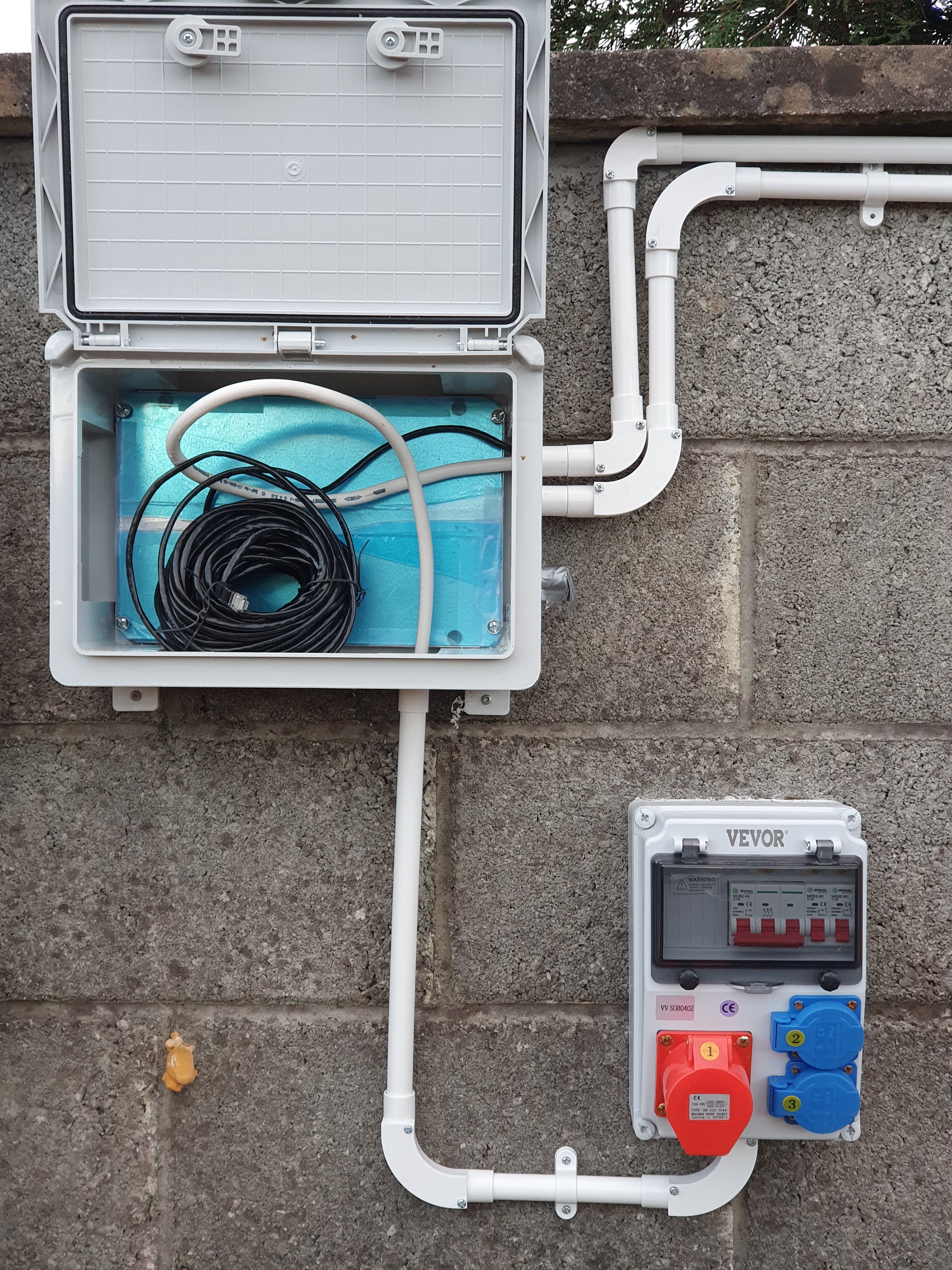 The blue back panel is a sheet of perspex I fitted into the metal back panel. This lets you drill in mounting screws without producing metal filings which are problematic for circuit boards i.e. the ESP32 microcontrollers which will eventually live in these service boxes.
I'm still working on the house (mid) services box, should have that done by end of this week.
I got the lighting inside the shipping container done, and an alarm fitted to the site office (note yellow siren up top):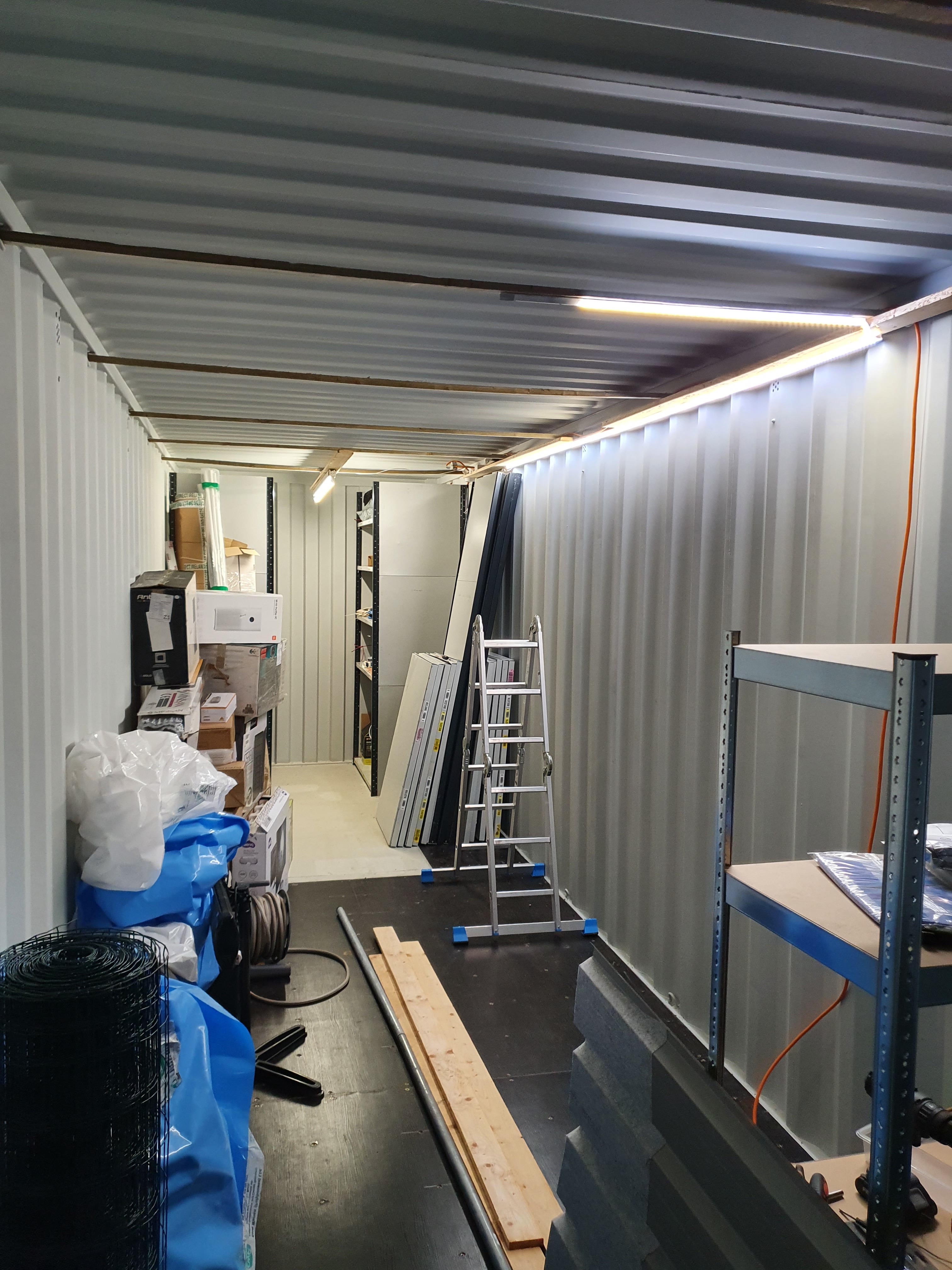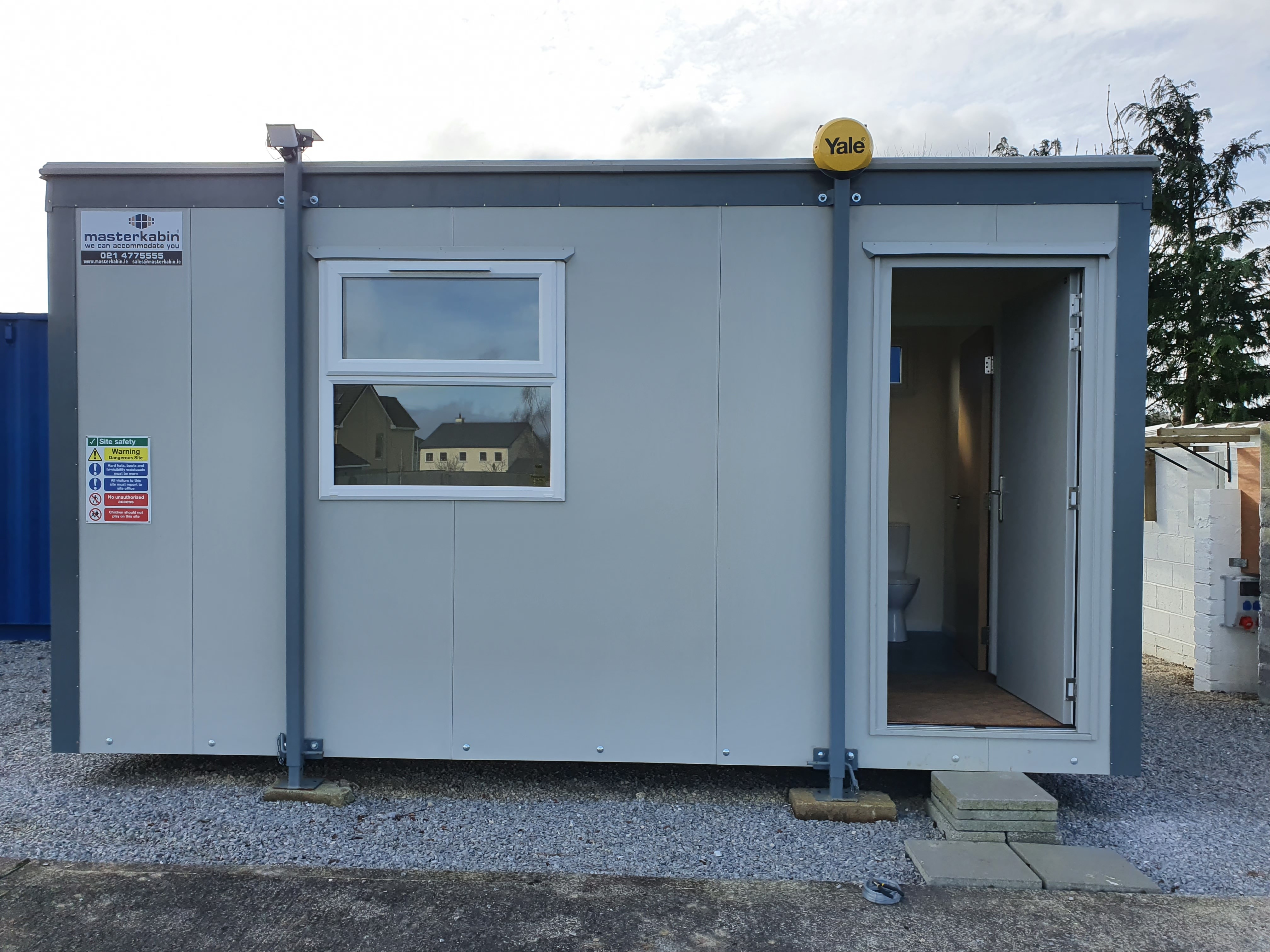 Turns out that the double width LED strip consumes 113w, which you never know until you test it, as item descriptions for Aliexpress stuff tend to understate power consumption and overstate brightness. Excluding the power supply's inefficiency, that is bang on 20w/metre, with the Aliexpress item listing claiming 16w/metre, so 20% understated which isn't the worst I've seen. With the far end LED tube added that rises to 136w. The brightness in there is a bit overkill, the shipping container computer when I finish it will be able to PWM dim the LED strip down to perhaps as little as 40w and it'll still be plenty bright enough.
The site office alarm is a Yale thing which works by AM radio waves. Aldi were selling them cheap for €70, about half their normal cost, so given how slow I am going on wiring up ESP32 boards to act as burglar alarms I figured this was worth the stopgap. It certainly works, the instructions it comes with are inaccurate so it kept going off during installation – indeed, the gards turned up at one point, which is nice to know that they actually do so when a house alarm goes off. With the help of the internet I figure it out, and it now is working as it should. It came with two PIR sensors and a door sensor, more than plenty for my little site office. Any attempt to knock anything off their mounts triggers the alarm, it also goes off if the radio signal gets interrupted. Not bad for €70. Only hassle going forth will be replacing batteries I think.
What comes next
By the end of this week I probably have to stop doing my own wiring, as a RECI certified electrician is needed to produce the ESB certificate of compliance necessary to get the ESB to install a mains connection. Wiring in 2.5, 4.0 and 6.0 mm2 leaf cable myself is one thing, wiring anything in which touches the ESB meter box (16 and 25 mm2 cable) is another. I have started chasing a RECI certified electrician, hopefully I'll get him to turn up in the next few weeks.
Before any groundworks can occur, I need the ground-air heat exchanger pipes which are a special order with at least a six to eight week lead time, so if I want those installed this summer, I need to get a move on. I've started the process of ordering them and creating a storage holder for them in the shipping container as the bulk of those pipes won't get put into the ground until after the house build is complete, so they'll need to be stored for several years at my current rate of progress.
Other than that, everything else hangs around getting a mortgage decision, as until I know the exact hurdle they need me to reach, I can't take any decisions. So here's hoping that the AIB come back to me soon with a more helpful answer than the other two banks!
---
---