Sunday 14 February 2021:
00:08. A little over a week ago I returned to work from lunch to discover this rather unpleasant surprise: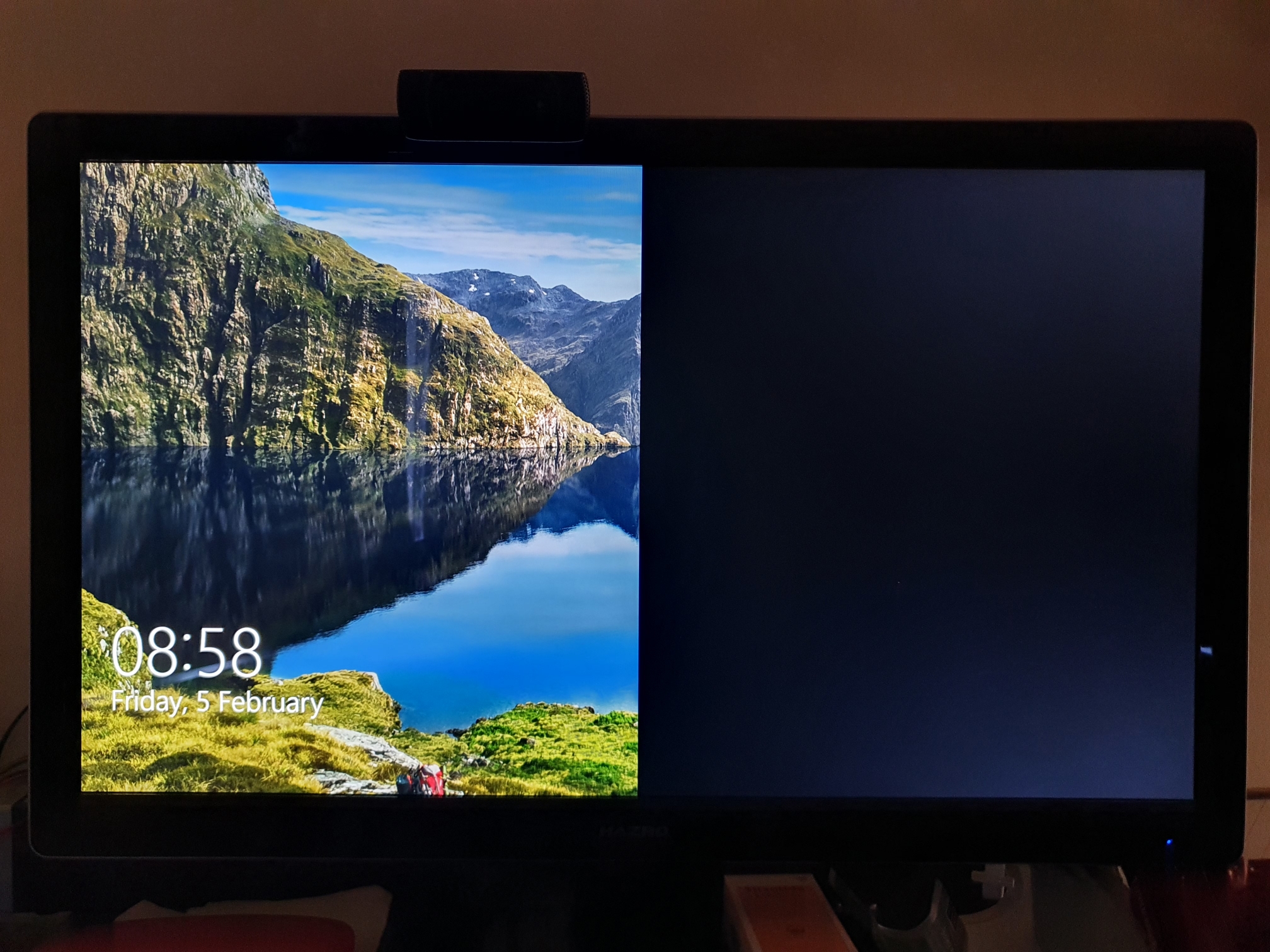 The right half of my monitor had vanished! And it quickly transpired that the cause could not be anything else but the monitor, a 27 inch 2K Hazro HZ27WD which I bought just under ten years ago.
Never heard of Hazro? They were a British thing. Basically someone in the UK contracted some South Korean manufacturer to stick the exact same high end LG IPS panel as was then in the Apple Cinema Display and professional grade Dell monitor into a very cheap all plastic chassis with a then-novel LED backlight and knock them out for under £400, which at that time, was ludicrously cheap for a 2560x1440 IPS monitor. Needless to say they sold like hotcakes, though many died after a few years with the exact problem mine died with. On that basis, getting nearly a decade of use from it was exceptional.
Because that panel was the very highest end available a decade ago, it lasted remarkably well in terms of display quality – I didn't get a display which beat it until the Dell XPS 13 I'm typing on now two years ago, which is not only 4K resolution, but also has slightly better colour reproduction (80% DCI-P3) than that 2011 LG panel (75% Adobe RGB). I hadn't thus felt much need to upgrade prematurely, or indeed keep up to date with the latest in monitor technology. I was perfectly happy with that Hazro until it died.
Cue, therefore, after its confirmed death, an enormous bout of reading to choose a replacement, as the choice available is legion, and there is a surprising amount of overpriced dross in the market mainly aiming for purchase by those who haven't done their research (this situation is very similar to mobile phones and cars, most people get "whatever's easiest" rather than what suits their personal use case the best).
I was very definite that I wanted a 4K display at 30 inches or more, so I could use 100% text scaling and still actually read stuff (I use 200% scaling on my laptop's 4K screen, and even then I wouldn't want to be spending ten hours a day in front of such small text). I also wanted:
Full DCI-P3 colour gamut.
Accurately calibrated from the factory.
Adaptive frame sync for AMD GPUs (Freesync).
A VESA mount as such a big panel is a pain to place ergonomically otherwise.
High quality scaling from 2k to 4k with low lag for a bit of gaming.
An environment sensor so the display adjusts itself over time to the room like my phone does.
Definitely DisplayPort and HDMI inputs, ideally also USB-C for my laptop/the future.
And, of course, I didn't want to pay too much, ideally under €500 ex VAT (€600 inc VAT) which I felt was a reasonable budget.
Given how the display of my current phone the Galaxy S10 is the best I have ever gazed upon ever in my life, period, my first thought was for an OLED monitor. Dell used to do a 'normally sized' one of those (i.e. not under 14 inches, not more than 40 inches) a few years ago, but they discontinued it as apparently its display wasn't very good for its steep price. LG have announced the 32 inch 4K 32EP950 with a JOLED OLED panel, 10 bit native colour and 99% of DCI-P3 gamut coverage, but it's not for sale yet, and when it does goes on sale, I very much doubt that it would remain in stock for long if it's reasonably priced, as LG claim it will be. And even then, reasonably priced would be defined here as under two grand, or three times my budget.
Having ruled that out, I next looked at Dell's monitors, and only found the 27 inch models appealing, which were too small. I then looked at the gaming monitors, but their hefty prices and things like having fans put me off. I looked at the ultrawides, but I was unwilling to afford the graphics card I'd need to power one of those, and besides to be honest, most of an ultrawide monitor is outside your field of vision in any case, so my opinion it's a waste of money for productivity uses (plus, many of them have colour reproduction issues caused by the curve in the monitor). As my shortlist of possible candidates built up, I began to notice that almost all of them were well over a grand, so the featureset I was looking for obviously did not come cheap.
The first monitor I saw to get me excited enough to start reading its user manual was the LG 32UN880. It has:
31.5 inch 4K IPS display with 95% of DCI-P3 colour gamut. LG panel.
AMD Freesync with nVidia compatibility.
USB-C input support.
Comes with desk clamp stand and has complete motion, including swivel.
Delivered for under €700 inc VAT, if you can find it in stock (none in the UK nor Germany at that time).
It seemed to tick most of my boxes, but there was a real paucity of professional reviews out there (just one!), and almost no information nor experiences of people playing games on it. I didn't know, for example, what input lag it might have when scaling 2K content to its 4K panel, and the lack of evaluation apart from short user reviews along the lines of 'I love this monitor' weren't ideal.
After lots more searching, I eventually stumbled on another monitor exciting enough for me to read its user manual, which was the BenQ EW3280U:
32 inch 4K IPS display with 95% of DCI-P3 colour gamut. AU Optronics panel.
AMD Freesync with nVidia compatibility.
USB-C input support.
VESA mountable.
Better HDR than the LG, though still not a patch on the much brighter local dimming backlight models costing twice as much.
An environment sensor, so it can automatically adjust its brightness and colour to the current surroundings.
A subwoofer (very unusual!) and a remote control (even more unusual).
Delivered for under €700 inc VAT, from multiple suppliers across Europe including Amazon.
Unlike the LG, the EW3280U has plenty of in depth reviews, including many hours of YouTube video reviews and deep testing of the monitor in almost every conceivable use case. I read and watched a lot of those reviews, and felt I knew what I was buying, so I pulled the trigger from Amazon Germany to avoid the Brexit tax. It arrived seven days later: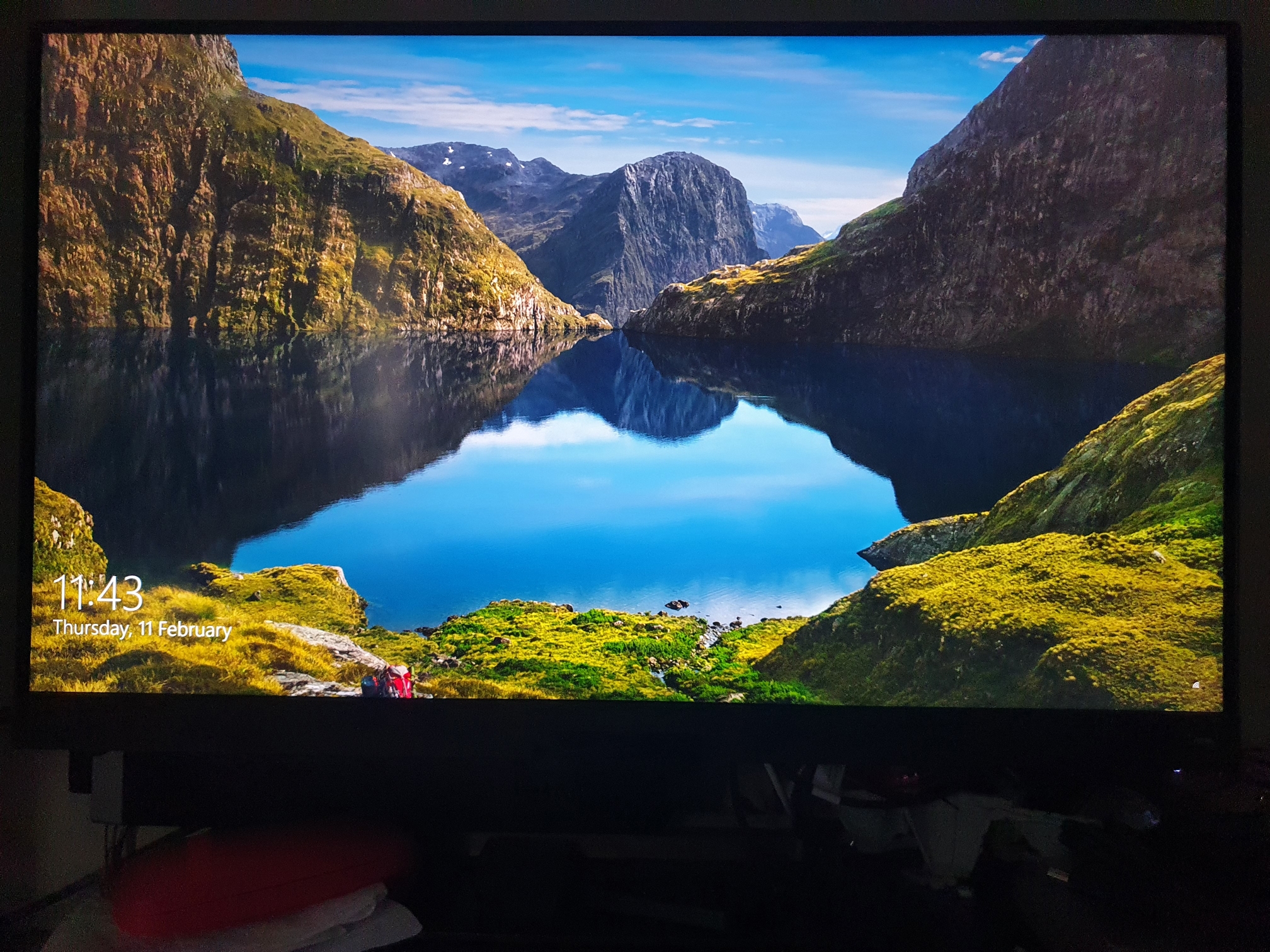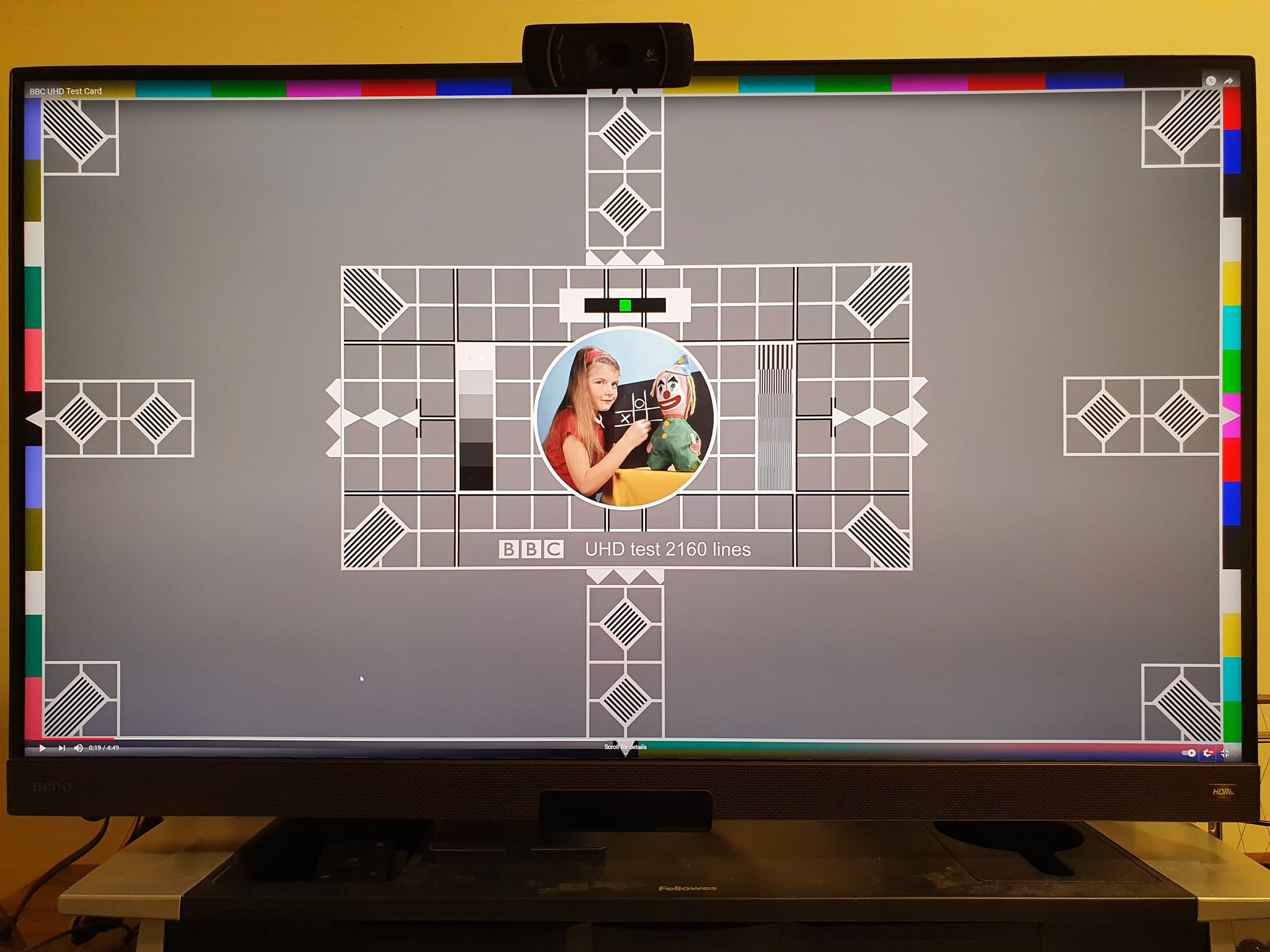 After it arrived and I'd used it for a day I realised it was too high up, so I ordered a desk clamped mount the ErGear EGSS6-E from Amazon UK for £31 (which is under the Brexit tax threshold) which claims 12kg monitor weight support (the BenQ is 8kg). Despite it being pretty much the cheapest VESA mount on Amazon able to handle bigger monitors, I found it well made and it works well, no problems with the size nor weight of this monitor at all, and you can move the monitor up, down, side to side, in and out, and tilt/rotate it: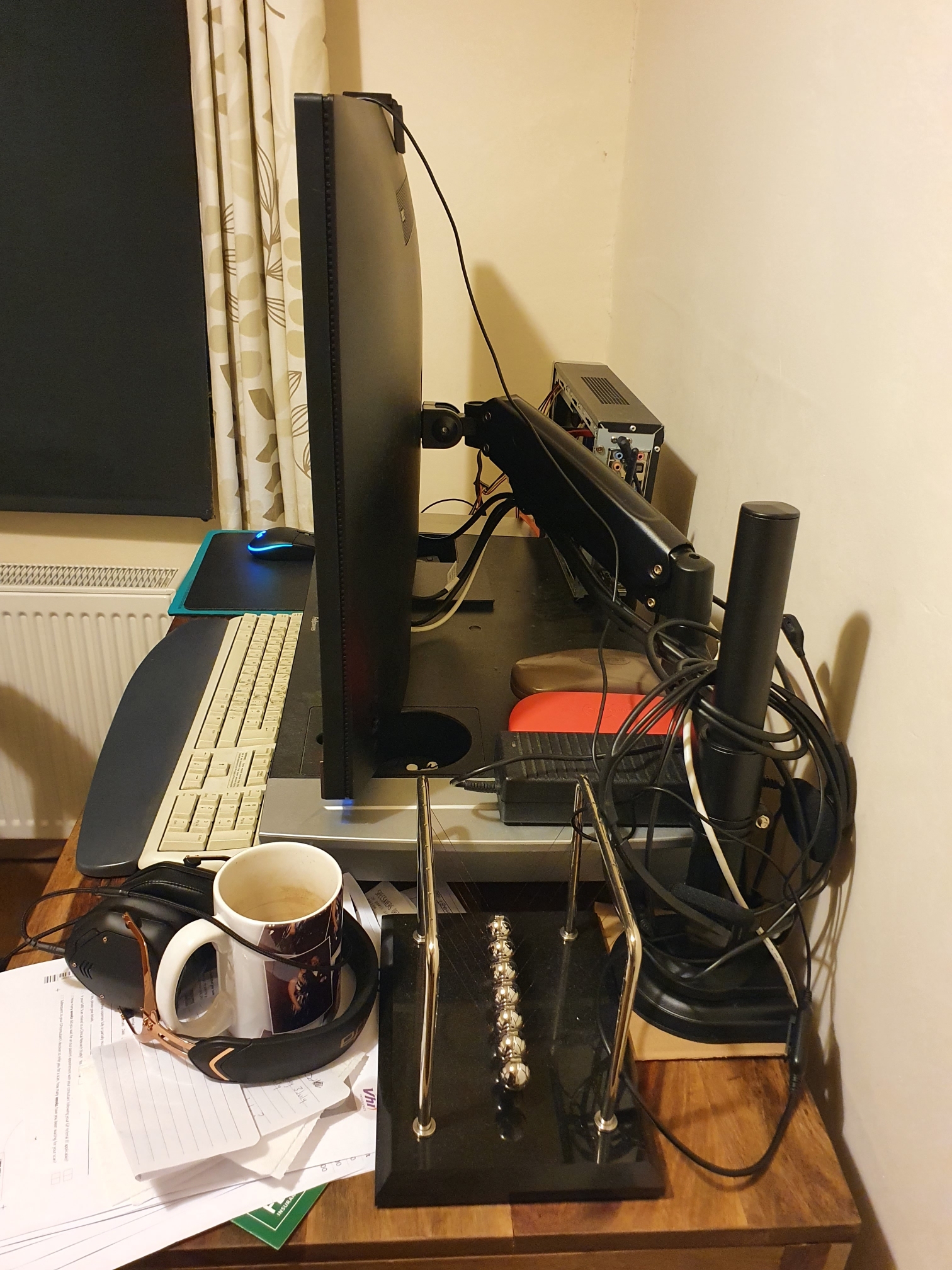 So what's this monitor like to look at? This monitor is the best monitor I've ever tested on http://www.lagom.nl/lcd-test/, out of the box perfect across all the tests. Out of the box colour reproduction and gamma is perfect, without adjustment, at all brightnesses, in so far as I can test without professional equipment. No dead nor bright pixels. There is surprisingly little colour shift from your head position on the IPS panel, display technologies have improved greatly in the past ten years since I bought my previous monitor. This is a HDR and wide gamut monitor, but my five year old graphics card can't do better than deliver a 10 bit sRGB signal, so I can't comment on any of that stuff unfortunately. Sound quality from the monitor is unusually good due to its subwoofer, it's actually usable for EDM though the lowest bass tones like in dubstep don't render. You can have it optionally change its colour and brightness rendering to match your current environment e.g. turning on the room light (which is warm white) has a noticeable effect on the monitor, and that sensor can be disabled. The choice of 32 inch over 27 inch for 4k resolution was definitely the right call, I'm at 100% DPI zoom in Windows and it's just right. All in all, for the money, I am pleased.
My only concern is that I swear the backlight flickers slightly sometimes, mainly around the top left. It isn't always there, indeed most of the time it isn't there. When it appears, or at least I think it appears, I've tried recording it with my phone at 60 fps and my phone yields me nothing – though, it may just be auto-filtering out the changes in the brightness to create a more consistent video recording. This BenQ model is supposed to come with DC rather than PWM dimming so it should not flicker. If I knock up the brightness, I swear I still see it sometimes but not always, so it's definitely not caused by PWM.
There's a chance it could be me, or the edge backlighting LEDs in the top left of the monitor have a fault in their circuit. Sending it back to Germany for a replacement would be irritating, but let's see how this coming week fares, it may just be new monitor teething as the electricals settle in or something.
---
---