Sunday 22 October 2023:
09:34. We are getting towards the end of the prepatory phase of
my future house build
, believe it or not. Next weekend should be the last time I rent a digger for the foreseeable future, this time shall be to clear the vegetation at the back of the future walled garden and to drop the last of the concrete Lego blocks to make the rear boundary wall. After that, the site has reached 'build ready' for the professionals to turn up and get started:
Mains electricity is available (via the solar panels and storage batteries).
Security cameras are monitoring the site.
There is a live feed via the internet to my rented home and to my phone.
All lighting is working, work office is functional, shipping container is ready to go.
I started this phase of doing site works myself at the beginning of summer 2022, so it's kinda of the end of an era. To put it in perspective, I have been there every spare moment for well over a year, and for which I gave up going to the gym or indeed anything resembling 'me time'. My first post here about this was in July 2022 where I tested my newly purchased security cameras for their night vision. Who would have thought then it would have taken sixteen months to reach now?
Speaking of said cameras, here they are right now at this very moment as I type this: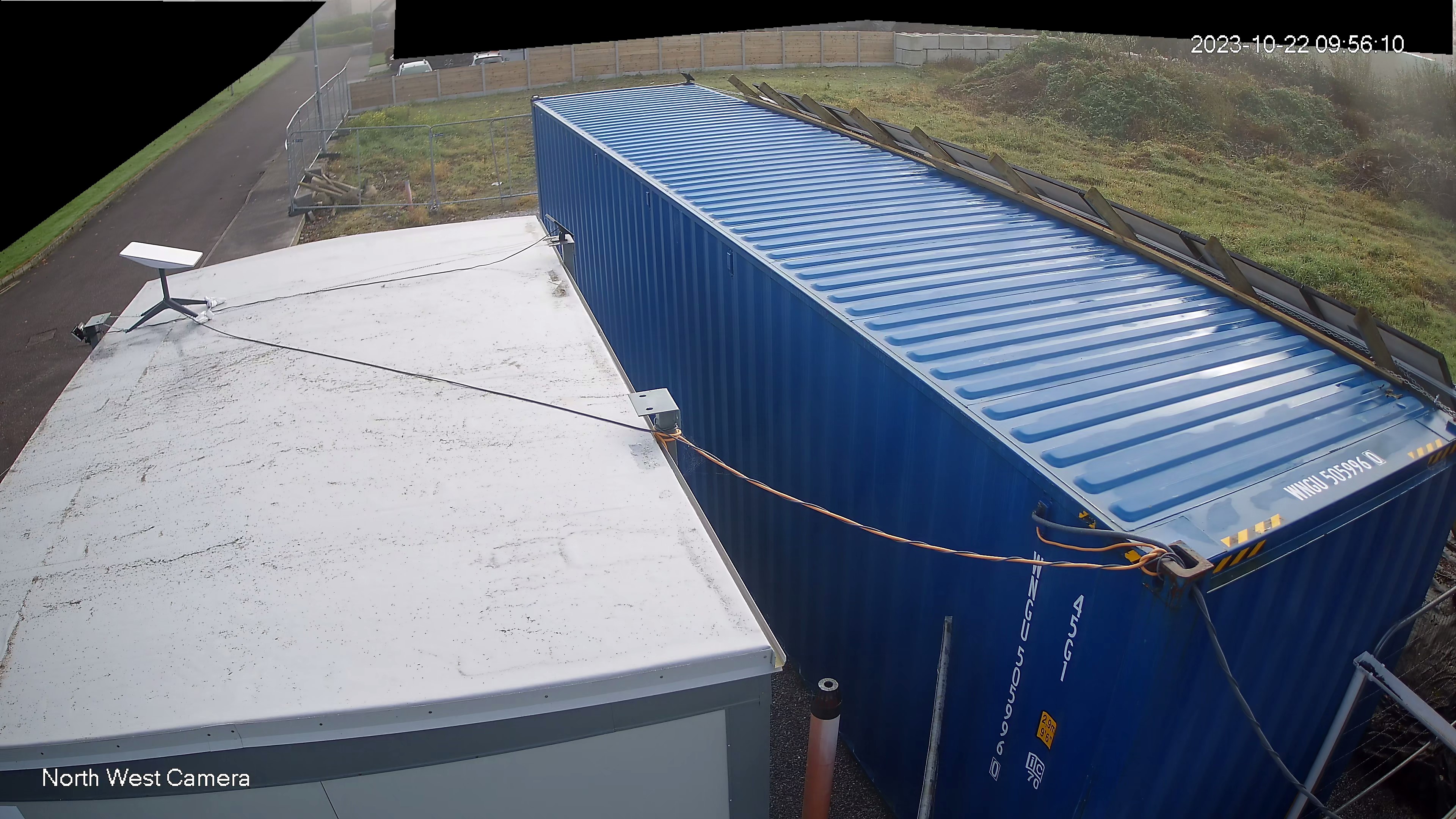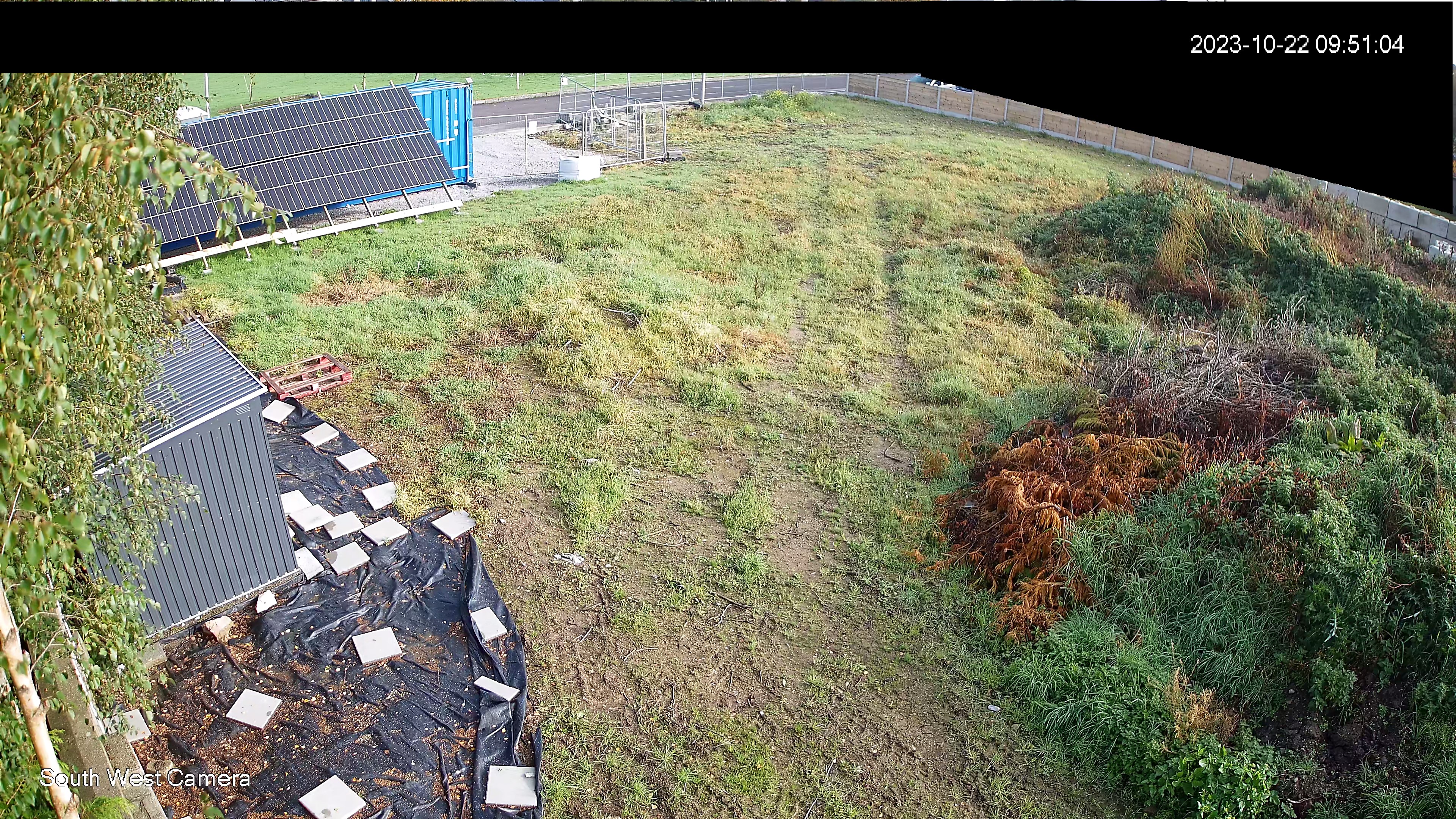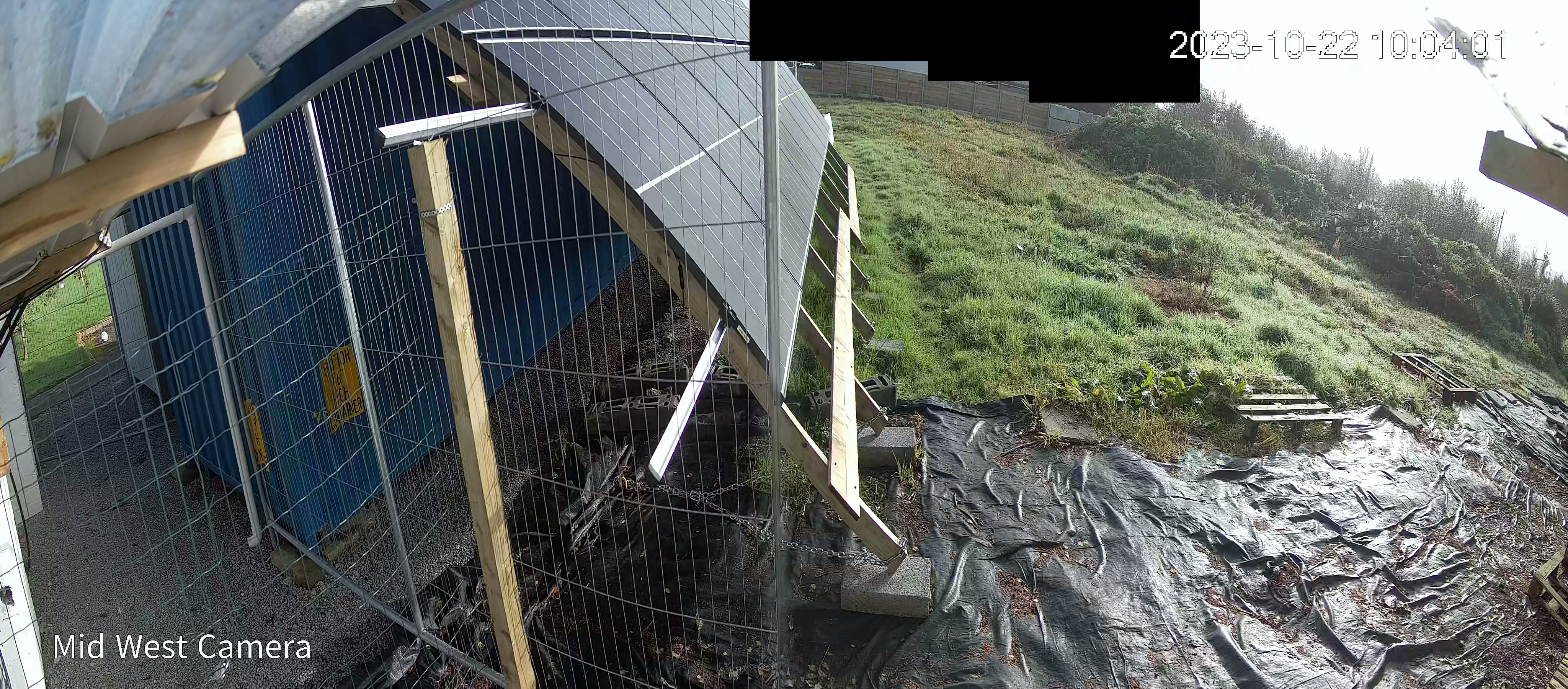 Thanks to a Wireguard VPN between rented home and site, those appear as if on my local network, so it's very easy to access them. I didn't think of taking shots last night when it was dark, but unsurprisingly given my testing of them in July 2022 they see as if daytime at night, and in colour as expected. The site is actually well illuminated by the street lamps on the road, it's more than enough for the cameras to make out a good picture, albeit everything is rather orange tinted as that's the colour of the street lamps. In any case, anybody coming on site at night time is registered without issue.
They have basic AI on them, good enough to detect the difference between a cat and a human. I'm still tuning those settings, the mid camera in particular gets plagued by moths at night time due to the illuminator being on (which is to remind anyone thinking of robbing me that they are being recorded), so it keeps tripping. But I'll figure it out eventually.
Solar installation
I actually got all the panels mounted two weeks ago: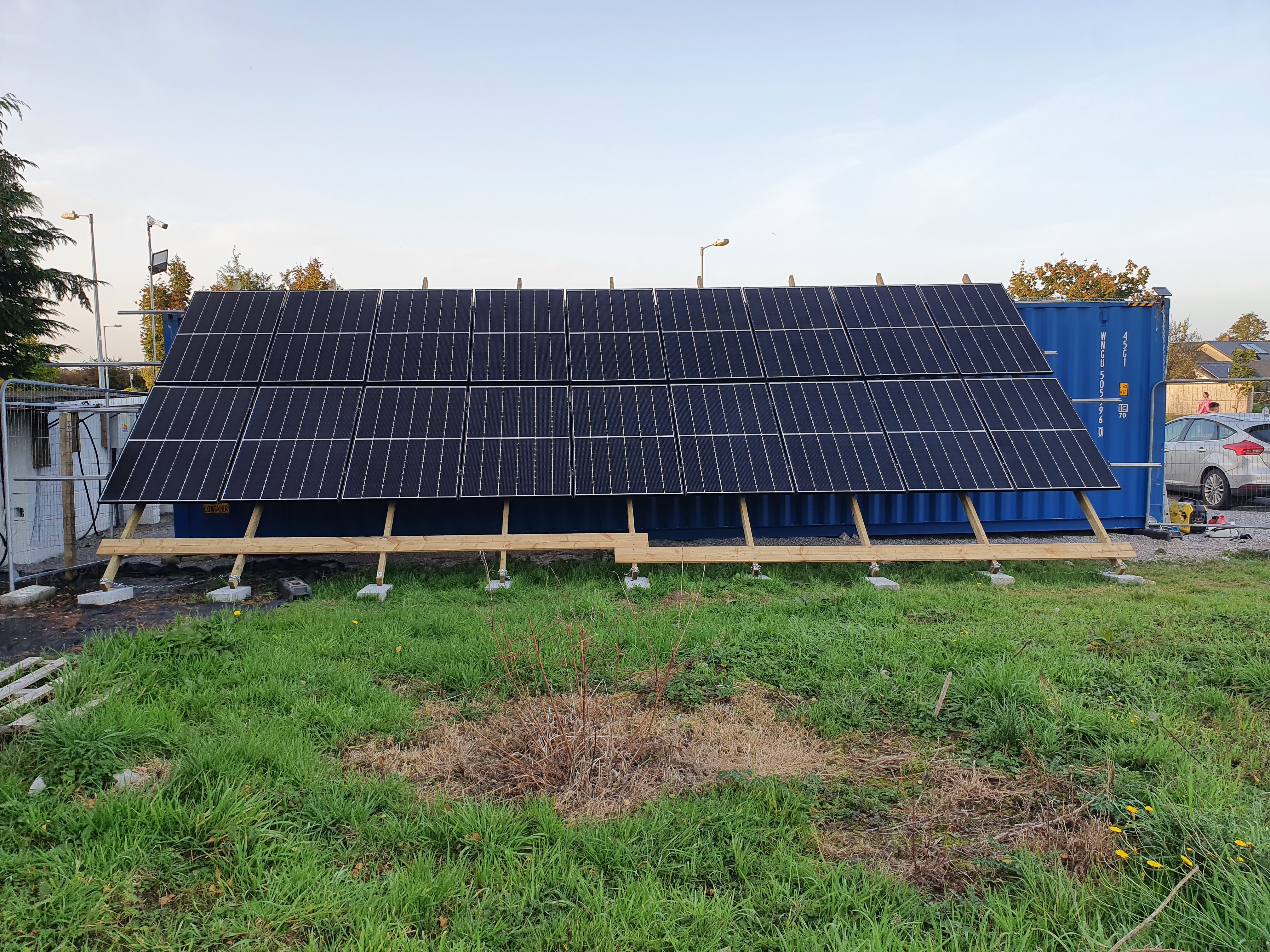 But I didn't turn everything on until last weekend, as there was a final bit of wiring to be done especially more RCDs and safety stuff for the electricals. This was my first night of non-generator lighting: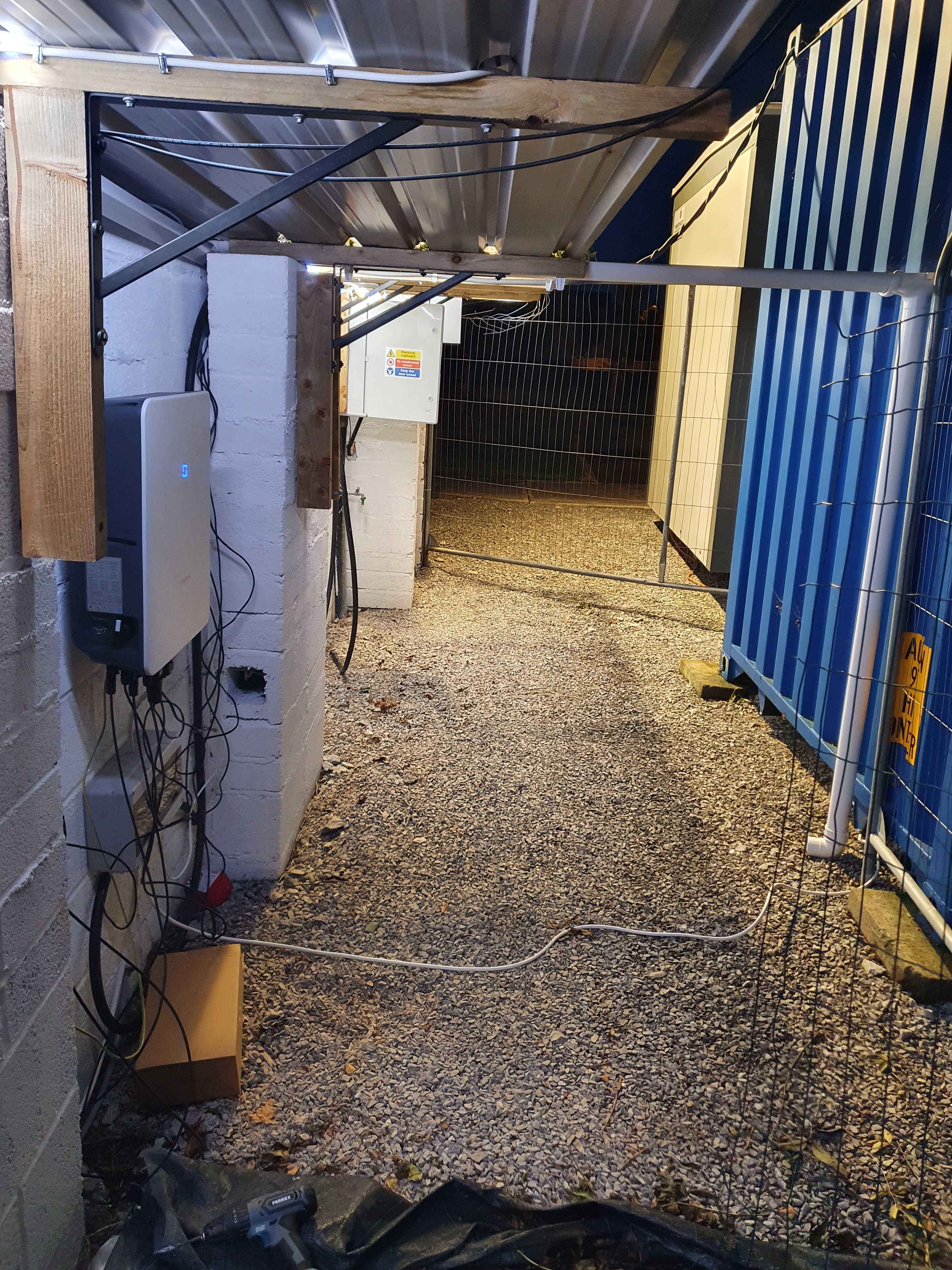 It still took a week of debugging before things became stable and reliable – after all, I've never done any of this before, so there was a steep learning curve, one day for example I ran the batteries flat which involved a lot of head scratching, because nowhere in the system does it actually loudly announce 'your batteries are flat, and I'm going to silently randomly drop out when the daylight slightly dips'. But I think I have it working reliably now.
Sungrow have a cloud integration I'll be disabling when I get Home Assistant up and running, but for now it's kinda handy albeit buggy: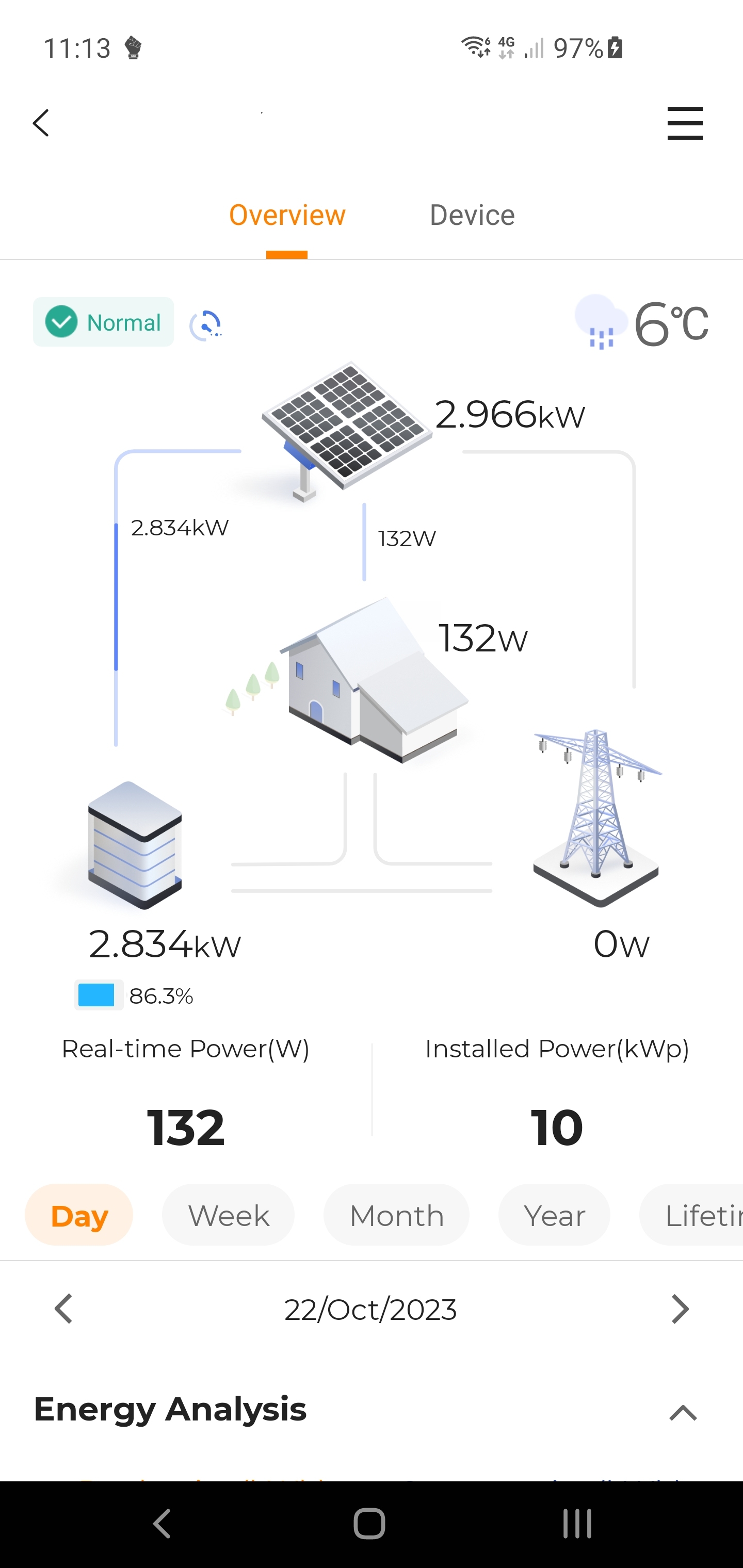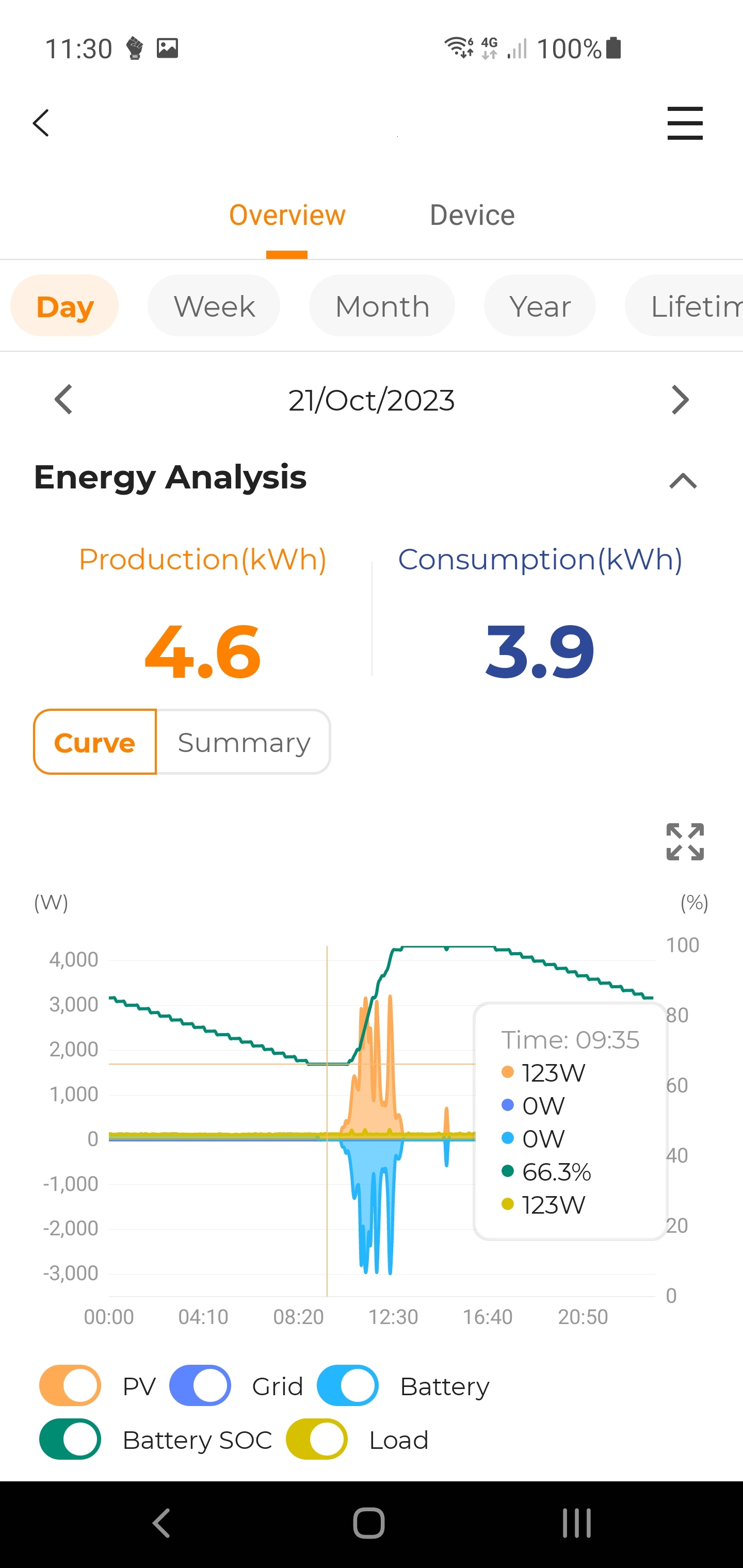 As you can see, right now the panels are generating about 3 kW, which is because it's sunny. I've not yet seen the eighteen 375w panels (a 6.75 kW installation) generate more than 3.2 kW at a time, but I suppose it is October. I'd never expect more than 5.0 kW at best anyway, which is the NMOT maximum according to their datasheet.
The baseline power consumption is 130 watts or so. About fifty of that goes into the 54v DC mains which powers the cameras, routers and network. Assuming a 65% power efficiency (it is a very low wattage for a 4 kW power supply rated for 85% efficiency), that might be 75 watts. The Starlink will certainly draw a further 40 watts, and the remainder is the inverter itself, which seems to need about 10-15 watts depending on what it is doing.
With 10 kWh of battery capacity, the 130 watt baseline load currently drains the batteries to about two thirds of capacity every night. That will get considerably worse next month, and become much worse again in December as the hours of sunlight drops. I've noticed that dull days only generate about 300 watts at best, so two dull days in a row would be enough to run out of batteries. In the end, this is Ireland, we are very far north so you can't expect much solar radiation for one third of the year.
What's next?
As I mentioned, the long weekend next weekend is expected to complete the build preparation for the physical side of things. I intend to finally resume going to the gym after more than a year of absence, as much as physical labour on the site has been a substitute, I am looking forward to fewer torn muscles and the rather unbalanced exercise which is manual construction.
The design preparation is coming to an end as well:
M&E design is nearly done, they are just writing up the final reports.

We have chosen glazing after a few weeks of work on it: most of the wall glazing will be Nordan as I liked the seals much more than Rational's or Munster Joinery's, and their quote was surprisingly competitive (I think within the Passive House spec the budget glazing suppliers have no choice but to charge most of what the premium glazing suppliers charge). Munster Joinery are the only place in Ireland where you can source a passive house capable front door, so for that alone we'll be going with MJ. For the roof glazing, it will be 1.4m tall Velux for all but the two windows in the mezzanine as Velux don't have the right width there, so for those alone it'll be Fakro (the Fakros cost considerably more than Velux for passive house spec). In case you're wondering, for passive house spec roof windows the only choice is between Velux and Fakro, there are no others available in the Irish market. Both are hideously expensive compared to the wall glazing, but for natural light there is not much alternative.

We are currently working on lighting and socket placement. Once we have those integrated into the plans, I'll work on ducting placement design.

After that, it's frame and structural design detail remaining, and theoretically after that the build can begin.
In case you're wondering about the mortgage, there is still no mortgage in place. They did at least reissue an Approval in Principle for me quicker than the three and a half months it took last time. They keep finding new hoops to jump, ever more bits of documentation to supply, and I like a good horse keep jumping them one after another. At some point they'll run out of excuses, and they'll have to either grant or refuse the mortgage. Maybe before Christmas we might learn one way or another, we'll see.
Finally, this will be my last post from this laptop! I'm selling it to a friend of my sister's as I was going to replace it anyway in the upcming Black Friday sales. It's a Dell XPS 13 9380, and here is my post on here when I acquired it in 2019.
In the post I found this laptop worse in most ways to the older Apple Macbook Pro it replaced, which actually became Megan's laptop after it came back from Apple with most of it replaced under warranty (and with a much less unreliable keyboard fitted, which has since then held up much better than it did for me). However four years of using this laptop I can confidently say it's also one of the best laptops I've ever owned. It still has 70% battery capacity left, I still love its 4k display even though it only can do 65% of the DCI-P3 gamut or so. Its four core CPU feels slower than it did, but it's still good enough. And I've done a lot of mileage on it, both in terms of typing, use and travel and it's held up very well, it still looks almost new.
Its replacement will probably be either of these:
Huawei MateBook X Pro 13

90% DCI-P3 3120 x 2080 IPS display max 550 nits.
Intel i7-1360P with four real cores and eight tiny cores.
16Gb 5200 RAM with PCIe 3.0 1Tb SSD.
Haptic touchpad which is an inferior edition of Apple's, but still way better than typical trackpads.
Speakers almost as good as the MacBook Pro.

Asus Zenbook S 13 OLED (AMD edition)

100% DCI-P3 2880 x 1800 OLED display max 365 nits.
AMD 7840U with eight real cores and much better graphics than Intel.
16Gb 6400 RAM with PCIe 4.0 1Tb SSD.
It's a classic inners vs outers problem: the Huawei has worse inners, but the outers are better; whereas the Asus has worse outers, but the inners are better.
The replacement will definitely not be another Dell, who appear to have once again gone off the reservation for high end laptops after their return to sanity which produced this laptop. Dell's most recent XPS 13 is highly unconvincing AND expensive, even if were priced like the two above you still wouldn't pick it. And it's not priced like the two above, it's a good two to three hundred euro more expensive for a much worse spec.
As to which of the above I'll end up choosing, it'll come down to what's available and how much it'll cost during Black Friday. What I'd really prefer is Huawei's shell with the AMD processor inside, as the Intel one isn't remotely competitive. But there isn't anything like that on the market unfortunately.
I did once again look into a Framework laptop, I absolutely love the idea, and they're way more competitive this time than they were last time. If only they had something like the 16 inch model's display in their 13 inch model, I'd have gone for it. But they don't, and their 13 inch model's screen is no better than my current Dell's plus its much much lower resolution. So that broke it for me, which is a shame.
---
---